Learn the basics of SUP in a fun filled two hour private lesson. This short session is suitable for all-comers so bring the kids!
Rates
2 hour private lesson - (9 am - 11 am)
Private lessons are generally available Thu, Fri and Sat mornings during Daylight Saving.
1 Person: $95
2 People: $80 each
3 People: $70 each
4 People: $60 each
5 people or more $50 each
Description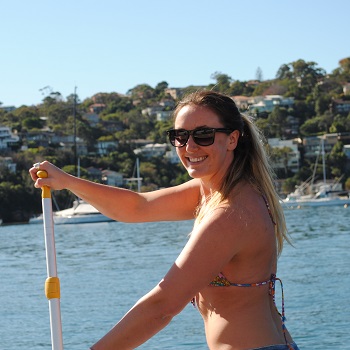 Stand up Paddle boards are fun, great for 'core exercise' and a delightful way to explore the shoreline of Sydney Harbour.
In this short lesson we spend an hour teaching you about the equipment, basic safety, balance, body alignment and stroke technique and then let you loose to explore for an hour.
Our friendly instructors will have you mastering the basics in no time.
Learn with friends, family or work colleagues
Choose a solo lesson for the benefit of one on one coaching or why not bring a friend or a small group to reduce the price and increase the fun.
We welcome families with kids as well as corporate groups looking for some action packed teambuiding
Schedule

In this short lesson you will learn:
Intro to equipment
Carrying, launching, landing
Balancing and stance
Basic paddling techniques
How to turn the board
Basic safety and self-rescue techniques
Sea and wind conditions
Equipment and location
Our training location at Middle Harbour Yacht Club in Sydney is superb for paddleboarding with a number of stunning beaches and some excellent cafes just a short paddle away.
Redpaddleco test centre
Redpaddleco make a fabulous range of super tough, super light, super convenient inflatable paddleboards.
At Flying Fish you can try before you buy.
What's included
Equipment, instruction, safety boat, PFD.
Before you start
No previous experience required
What next?
Once you have learned the basics and gained confidence you will be ready to come and hire a board.