Dinghy Sailing Intermediate - Start Racing / Spinnakers.
Racing sailing dinghies is fabulous fun and it's a great way to develop your sailing skills as well as your fitness. This course provides an introduction to dinghy racing and spinnaker handling. After the course, you will be ready to join a club and start racing!
Mon 15 Jan 2024

-

Thu 18 Jan 2024
4 days, 10:00 AM - 05:00 PM
Mon 25 Mar 2024

-

Thu 28 Mar 2024
4 days, 10:00 AM - 05:00 PM
To book a private course Enquire here
Description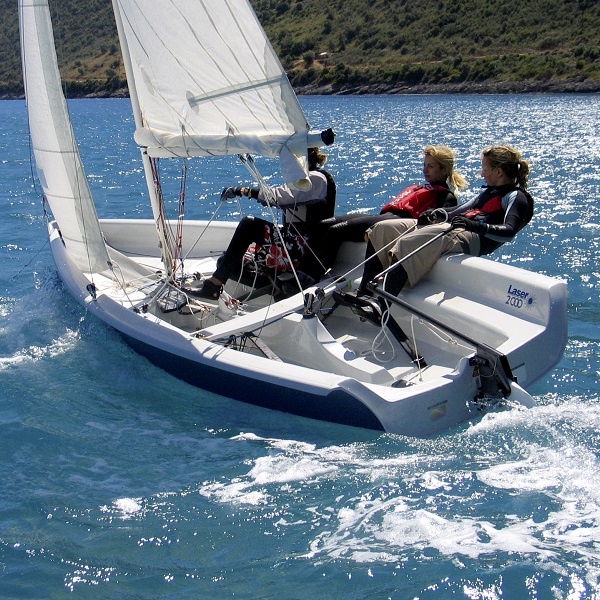 Improve your basic sailing, develop new skills, and enjoy a fun-packed training experience.
You will practice your sailing and racing skills in our single-handers and then go on to develop your racing and spinnaker-handling skills in our double-handers.
Course program
Day 1 RYA Dinghy Start Racing
AM (10 am to 1 pm)
Course briefing, introductions
Theory: Recap, personal sailing gear, sun protection, seven common senses, and points of sailing.
Rigging, sail off the beach.
Coursework, follow my leader, practicing 5 essentials.
PM (2 pm to 5 pm)
Upwind and downwind races and sailing exercises
Triangular course races
Day 2 RYA Dinghy Start Racing
AM (10 am to 1 pm)
Theory: Recap, sail trim, rules of the road
On-water coaching exercises
PM (2 pm to 5 pm)
Race practice – upwind downwind
Practice starts
Day 3 RYA Dinghy Spinnaker Handling
AM (10 am to 1 pm)
Land drill: Rigging the spinnaker, hoisting, trimming, gybing, and dropping.
Practice spinnaker handling, upwind and downwind
PM (2 pm to 5 pm)
Practice spinnaker handling, upwind / downwind races
Day 4 RYA Dinghy Spinnaker Handling
Sailing location
The course is based in an absolutely spectacular setting at Middle Harbour Yacht Club on Sydney Harbour.
The weather is generally warm, sunny, and windy and the sailing area is extensive with plenty of stunning beaches just a short sail away.
Equipment and staff
Our training fleet includes RS Zest single-handers and Laser Bahias, (two-person dinghies with trapeze and asymmetric spinnakers).
Our instructors are qualified as well as friendly, experienced, and professional.
What's included
Training, equipment, safety cover.
Lots of fun!
BYO - packed lunch.
Qualifications
RYA Start Racing

RYA Spinnaker Handling
Before you start
This course is suitable for basic sailors who have completed our level 1 and 2, learn to sail course, or who have equivalent experience.
Suitable for ages 12 and upwards
You should be able to swim 50 m.
What next?
Ask about our dinghy hire and race coaching classes.
Or why not start yachting or windsurfing!