This course gives you an overall awareness of the central systems of a marine diesel engine. We teach you how to take simple measures to prevent mechanical breakdown at sea and rectify defects that do not require workshop support.
1 day, 10:00 AM - 05:00 PM
1 day, 10:00 AM - 05:00 PM
1 day, 10:00 AM - 05:00 PM
To book a private course Enquire here
Description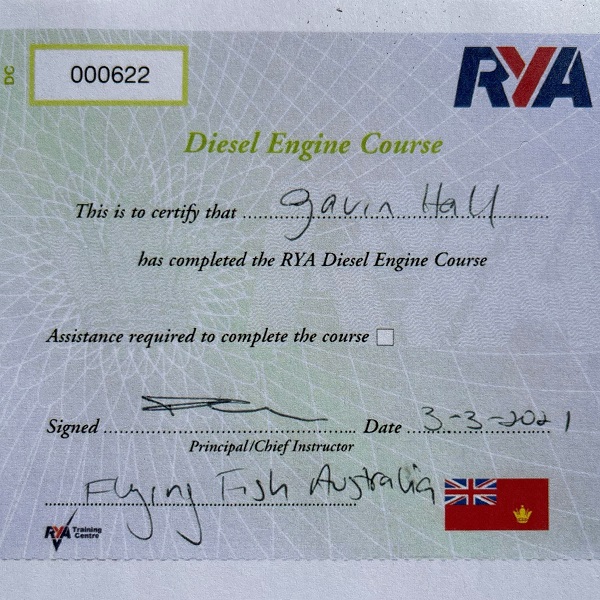 Whether you sail a yacht with an auxiliary diesel engine or are a motor cruising enthusiast, this course will teach you enough to understand and care for your engine.
At the end of the course, you will be able to perform simple engine maintenance tasks, helping to extend the life and preserve the condition of your engine and save you money in the long run.
Although the Diesel Engine certificate is not compulsory, you need this level of knowledge to enter a Yachtmaster exam.
Course content
Principles of the diesel engine
The four-stroke cycle
Naturally aspirated engines
Turbocharging
Intercooling/aftercooling
The fuel system
The basic system and tank
The water separating pre-filter
Fuel lift pump
The engine fine filter
Injection pump and injectors
Bleeding the system
The cooling system
Seawater cooling
Freshwater cooling
Temperature control / the thermostat
The seawater impeller pump
The air system
Engine electrical system
The basic system
Battery capacity and care
Drive belts
The alternator
Fault finding/ routine maintenance/spares and tools
Instruction and location
A qualified RYA Diesel Engine instructor delivers The course to a small group in our waterside classroom.
What's included
Tuition and course training pack.
Qualifications
RYA Diesel Engine certificate
Before you start
No previous experience is needed for this introductory course.
What next?
If you spend any time on yachts, you will soon find yourself doing engine checks in real life.

Practice makes perfect!
For a more comprehensive introduction to essential yacht, maintenance, join our Basic Yacht Maintenance course.